Playing with Puppies and Other Ways to Learn About Happiness
Published May 8, 2023
---
---
Our learners come from all over the world and engage with our wide variety of courses in surprising and interesting ways. While we could try to group our learners into computer scientists, educators, humanitarians, etc., we find that our learners break down these traditional silos and forge unique learning paths. We're continually fascinated by our learners' diverse backgrounds and interests and today are looking at a few of the expected, and unexpected, courses learners decided to take along with Managing Happiness. 
Image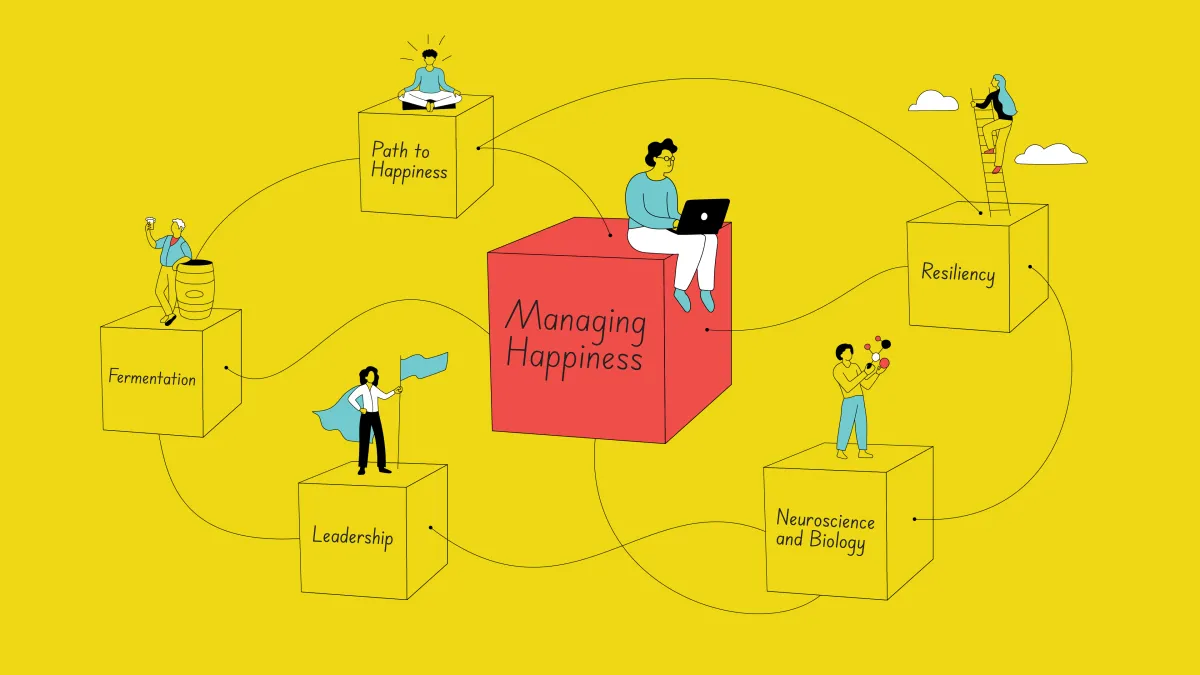 Led by Harvard professor, author, social scientist, and former classical musician Arthur Brooks, Managing Happiness will introduce cutting-edge survey tools, the best research, and trends in social science, positive psychology, neuroscience, and philosophy to help learners unlock the strategies to create a more purposeful life, full of long-lasting enjoyment and satisfaction. Managing Happiness uses philosophical and technical insights, including a module with puppies, to challenge your assumptions about happiness — helping you break bad habits that hold you back and build good ones you can use for the rest of your life.
Since launching last February, over 43,000 learners have taken Arthur Brooks' Managing Happiness online course. These learners are from all over the globe (only 30% are from the US!) and are a range of ages, genders, and life stages. They are motivated, online learners, and more than 20% have taken multiple courses with Harvard Online! 
From Contemporary Theory to Ancient Philosophy 
Not surprisingly, many learners took both of our happiness courses: Managing Happiness and The Path to Happiness. While both courses are likely to put a smile on your face, these courses tackle the question of happiness from two different perspectives. Managing Happiness focuses on cutting-edge research and trends while The Path to Happiness explores ancient Chinese philosophy. 414 learners traveled chronologically, started Managing Happiness after taking the Path to Happiness, and 833 learners decided to dive more into philosophy with the Path to Happiness after taking Managing Happiness!
From One Leader to Another
Harvard Online offers a number of leadership classes: including, Exercising Leadership, Rhetoric, Remote Work Revolution for Everyone, Leaders of Learning, Open Innovation, and Data Science for Business. Taught by HBS and HKS Professor Arthur Brooks, Managing Happiness is an ideal course for any aspiring leader to learn how to manage happiness for themselves and their team. Many of our learners agreed with this theory, as almost 6,000 took Managing Happiness plus one of these other courses!
From Understanding Others to Studying Yourself 
Managing Happiness takes a scientific approach to understanding how positive psychology and neuroscience can be used to challenge assumptions about what makes you happy. We were surprised to see that so many learners were already interested in the biological sciences before taking Managing Happiness! One of the top learning paths was taking the Fundamentals of Neuroscience, Biochemistry, Human Anatomy, or Health Care Economics as well. 3,200 learners decided to take one of these courses, perhaps making a biological study of a fulfilling life. 
From Happiness to… Beer?
Finally, our favorite crossover was between Managing Happiness and Food Fermentation. 158 learners decided they needed to take Managing Happiness after Food Fermentation and 192 of them took the reverse path and decided, now that they're happy, why not try fermenting some cheese?
A New Path to Happiness
Personal resilience and happiness are linked! We'd like to suggest a new path to or from happiness for learners to explore. Our latest course on personal development taught by Dr. Luana Marques, Building Personal Resilience, begins in June 2023 and we think it would make a perfect pairing with Arthur Brooks' Managing Happiness. 
 
---

Let Managing Happiness be the first step on your learning journey and see where it leads you!  Or, start with another course and make your way to Managing Happiness instead!