Mental Health Matters: Strategies for Managing Anxiety and Feeling Happier
Published May 24, 2023
---
---
Has the COVID-19 pandemic affected rising rates of anxiety globally? Can we actually help ourselves feel happier? Is it possible to support others who are experiencing symptoms of anxiety and other mental health challenges? 
Image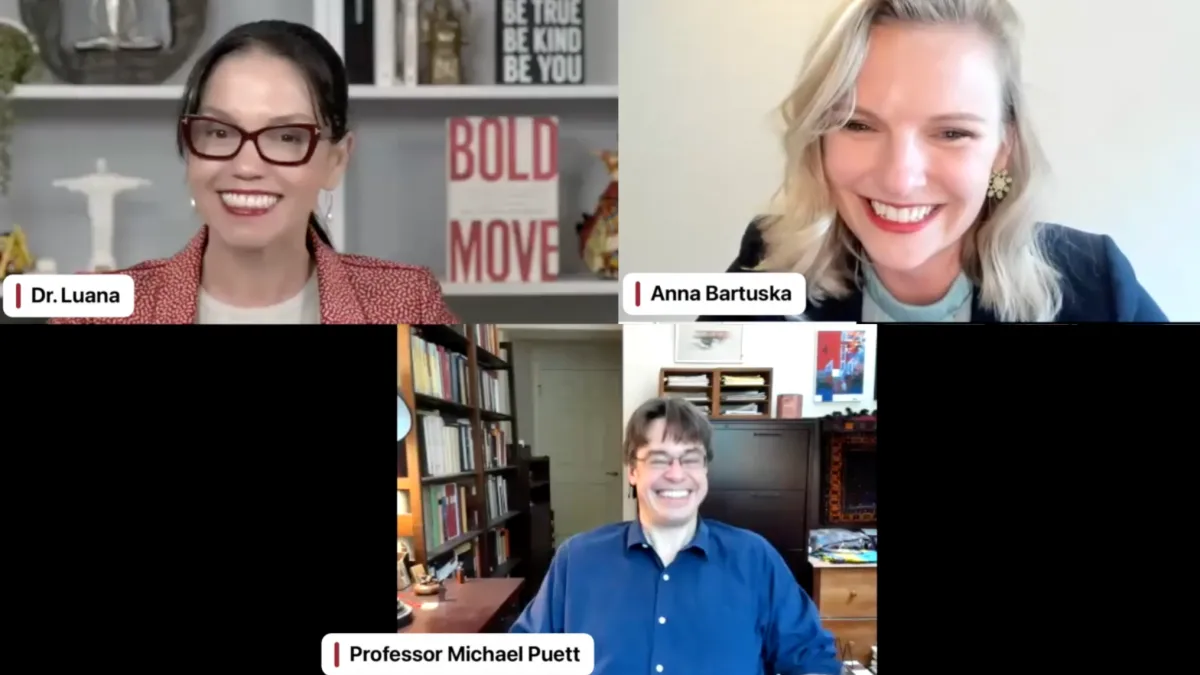 Harvard leaders Dr. Luana Marques and Professor Michael Puett gathered with moderator Anna Bartuska to answer these questions and more in our latest webinar, Mental Health Matters: Strategies for Managing Anxiety and Feeling Happier. 
In this 60-minute webinar, Dr. Marques and Professor Puett shared their personal experience with anxiety, discussed trending topics in mental health, answered participant questions, and gave advice on how to manage anxiety and feel happier by implementing science- and philosophy-driven solutions into your daily life. 
Puett says, "We've gone through a pandemic, we have been living in the world of social media for the last 15 years, and we are facing a difficult structural future with issues like climate change, rising inequality, and lack of social mobility. All of this is playing into the rise of anxiety. But of course, while most of these challenges are new, people have been wrestling with issues of anxiety for thousands of years." 
Marques notes, "Anxiety itself is not the problem, it's what we do when we are anxious that is the problem."
Dr. Marques is the author of Bold Move, course faculty for Building Personal Resilience, Associate Professor of Psychiatry at Harvard Medical School, Founder and Director of Community Psychiatry PRIDE at Massachusetts General Hospital, and former President of the Anxiety and Depression Association of America. 
Professor Puett is the Walter C. Klein Professor of Chinese History and Anthropology at Harvard University. His interests are focused on the inter-relations between history, anthropology, religion, and philosophy, with the hope of bringing the study of China into larger historical and comparative frameworks. He is the author of The Path: A New Way to Think About Everything, The Ambivalence of Creation: Debates Concerning Innovation and Artifice in Early China, and To Become a God: Cosmology, Sacrifice, and Self-Divinization in Early China, as well as the course faculty for Harvard Online's course The Path to Happiness.
Moderator Anna Bartuska is a doctoral student at the University of Oregon and former coordinator at PRIDE at Massachusetts General Hospital.
"Imagine a world where people would spend as much time training their brain as they do their physical body," notes Marques.
"You can start training your brain to break patterns by going back to the mundane level of your life. When you're walking down the street on a daily basis, start training your brain to notice everything that is going on around you," shares Puett.  
"There is magic in the mundane," agrees Marques. 
 
For more discussion and strategies on managing anxiety and feeling happier, view the full webinar:
To continue learning about managing anxiety and building resilience from Dr. Luana Marques, register for her course Building Personal Resilience: Managing Anxiety and Mental Health. 
To continue learning about how to experience more happiness, register for Professor Michael Puett's online course The Path to Happiness: What Chinese Philosophy Teaches us about the Good Life.
---
Disclaimer: The content provided in this webinar is intended for informational purposes only, and should not be considered as medical advice. The content is not, and should not, be relied upon as medical advice, and should not be used to make a clinical diagnosis, to provide treatment, or to replace or overrule a licensed health care provider's judgment.