Effective Teamwork in Health Care: Expert Panel Discussion
Published September 5, 2023
---
---
Who is part of a health care team? How can health care teams work together to improve quality of care? In the hierarchy of health care, who should be held accountable for effective teamwork? 
Image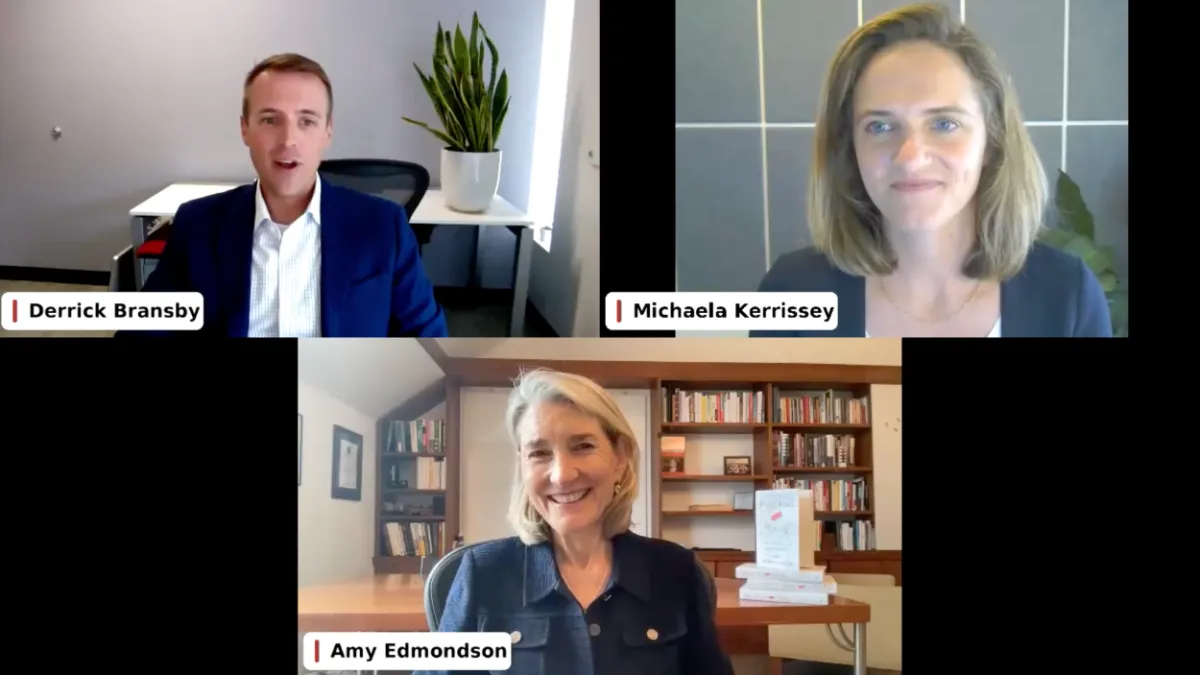 Harvard leaders Amy Edmondson and Michaela Kerrissey gathered with moderator Derrick Bransby to answer these questions and more in our latest webinar, Effective Teamwork in Health Care: Expert Panel Discussion.
In this 45-minute webinar, Edmondson and Kerrissey defined the pain points shared by health care teams all around the globe, talked about their professional research findings and solutions to these issues, answered participant questions, and shared practical guidance on how to build the necessary skills to encourage effective teamwork strategies within your own team and organization that result in improved patient care. 
Edmondson says, "Teamwork in health care is complicated, largely because the uncertainty level is high. Anytime this is the case, people need to team up with each other to do the work but without the luxury of stable, well-bounded teams. They must learn as they go and make adjustments along the way."
When asked about her latest research findings, Kerrissey says, "We found the degree of instability of teams within health care to be very high. We saw a lot of fluidity within membership and how people described their teams. What was striking was that the way people saw their teams varied dramatically in this context."
"If we don't know who and what we're talking about when we're discussing teamwork, it's really hard to improve upon it because we're all talking about different things. There is a real need to get sharper about how we talk about teamwork and how we measure it," Kerrissey added.
When asked about how to integrate a research and development mindset into health care systems, Kerrissey asks, "How do we bring the right people together in the right way so that the solution will work in a complex system? It's high time that these worlds of systems thinking, teaming, and innovation come together more meaningfully."
"Through the best practices of fluid teaming, people can achieve the benefits of teamwork even without the luxury of stable teams," Edmondson noted.
For more discussion and strategies ineffective teamwork in health care, view the full webinar:
 
For more discussion and strategies ineffective teamwork in health care, view the full webinar::
Amy C. Edmondson is the Novartis Professor of Leadership and Management at Harvard Business School, a chair established to support the study of human interactions that lead to the creation of successful enterprises that contribute to the betterment of society. She has pioneered the concept of psychological safety for over 20 years and was recognized in 2021 as #1 on the Thinkers50 global ranking of management thinkers. She is the author of Teaming: How Organizations Learn, Innovate, and Compete in the Knowledge Economy (2012), The Fearless Organization: Creating Psychological Safety in the Workplace for Learning, Innovation, and Growth (2018), and Right Kind of Wrong: The Science of Failing Well (2023).
Michaela Kerrissey is an Assistant Professor of Management at the Harvard T.H. Chan School of Public Health. She conducts research on how teams and organizations innovate, integrate, and perform, with a focus on health care. Dr. Kerrissey has authored over 30 publications on these topics and has won numerous best-paper awards, such as from the Academy of Management. She designed the Management Science for a New Era course at Harvard's School of Public Health. In 2023, she was listed on Thinkers50 Radar, a global listing of top management thinkers.
Derrick Bransby is a third-year doctoral student at Harvard Business School. His research explores how individuals, groups, and organizations join together to tackle complex, non-routine work, like health care delivery. Broadly, his interests lie in understanding ways of organizing that enhance collaboration and learning in the pursuit of creative solutions and innovation. Before enrolling at Harvard, Derrick earned an MBA from the Johns Hopkins Carey Business School and a BS in Engineering from the University of Pittsburgh. He brings eight years of health care operations and management consulting experience to the doctoral program.
---
To continue learning about effective strategies for teaming and teamwork in the health care industry from Amy Edmondson and Michaela Kerrissey, apply for their new course Innovations in Teamwork for Health Care.