Addressing Racial Disparities in Health Care
A Discussion with U.S. Health Care Leaders
Published February 16, 2023
---
---
How does the economic stability of a community, city, state, region, or country impact disparities in health care? Are racial disparities and discrimination an issue specific to the U.S., or is it present globally? How can we integrate training on reducing disparities in formal medical training?

Aswita Tan-McGrory, Director of the Disparities Solutions Center at Massachusetts General Hospital, and health care leaders from across the U.S. gathered to answer these questions and more. In this 45-minute webinar, top executives and researchers discussed equity and social justice in the health care landscape today, how the industry has changed since the onset of the Covid-19 pandemic, and practices to apply in your organization that lead to high-value care for all.
Image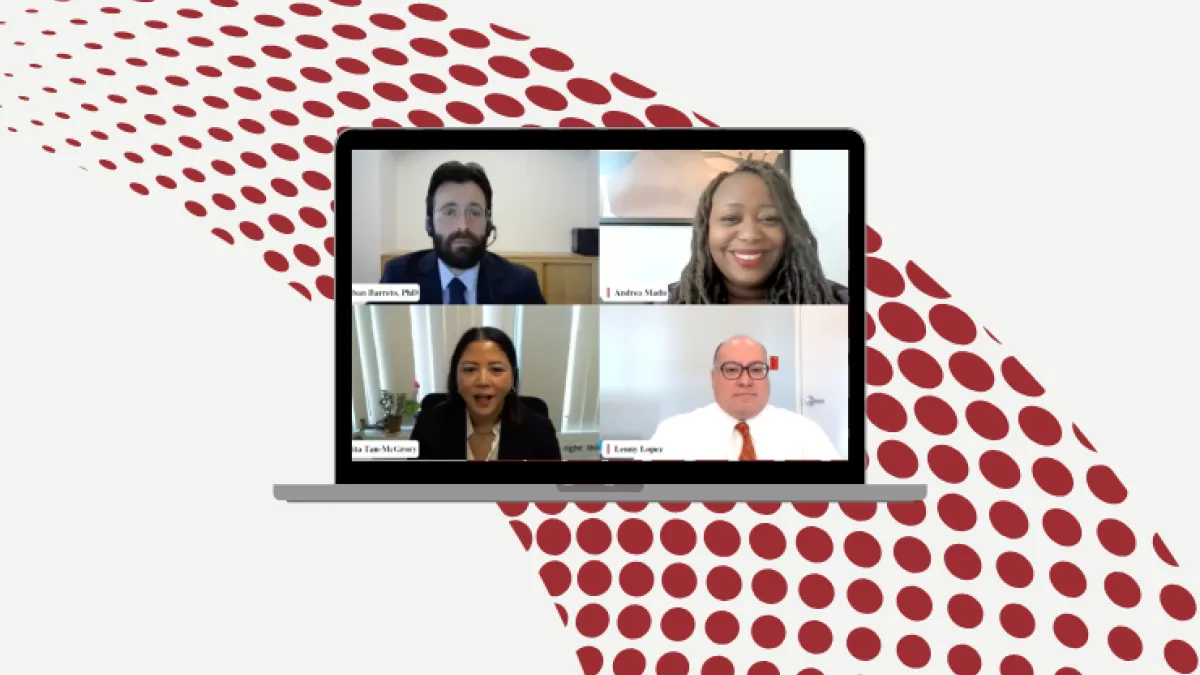 Tan-McGrorys says, "People sometimes ask me, 'how do you know that equity has been achieved?' And I would say that equity is not the end goal because it is really a journey and has to be monitored consistently. It has to be deliberate. We are always learning something new in this field.  It's constantly changing; terminology changes, funding changes, people's willingness to talk about it. We've definitely seen a huge change in the last few years."
Featured panelists include Lenny Lopez, MD, MDiv, MPH, Chief of Hospital Medicine at the UCSF - San Francisco VA Medical Center; Andrea Madu, MBA, Consultant at The Bridgespan Group and Social Impact and DEI Strategist; and Esteban Barreto, Ph. D., Director of Evaluation of Equity and Community Health at Massachusetts General Hospital. 
"I've learned over time in working with organizations, working within my own organization, to address the systemic barriers is that all the sources of disparities and the solutions for eliminating those disparities are all hyperlocal," says Lenny Lopez, "and the goal is to learn tools and strategies, for example, the Kotter model, to back to your institution, to your organization, to your community, and your place in the universe. And that's where the change happens"
View the full webinar on how to address disparities in health care here:
The topics discussed in this webinar are not entirely inclusive of the topics addressed in our course, Reducing Racial Disparities in Health Care.