Elevate Your Potential: The Ultimate Course Guide for Young Professionals
Published August 31, 2023
---
In the early stages of your career, it is important to build the foundational knowledge, skills, and habits that will serve you for years to come. One of the best mindsets you can adopt at this—and any—stage of your professional development is one of a lifelong learner eager to try something new. This way of thinking can help make the first few weeks, months, and years in your entry-level position fulfilling. It will allow you to excel in your current role and also position yourself as an asset with the potential for growth within your organization. As you navigate your industry, remember that each skill you acquire, each challenge you overcome, and each opportunity you take is a stepping stone towards your ultimate career advancement.
Image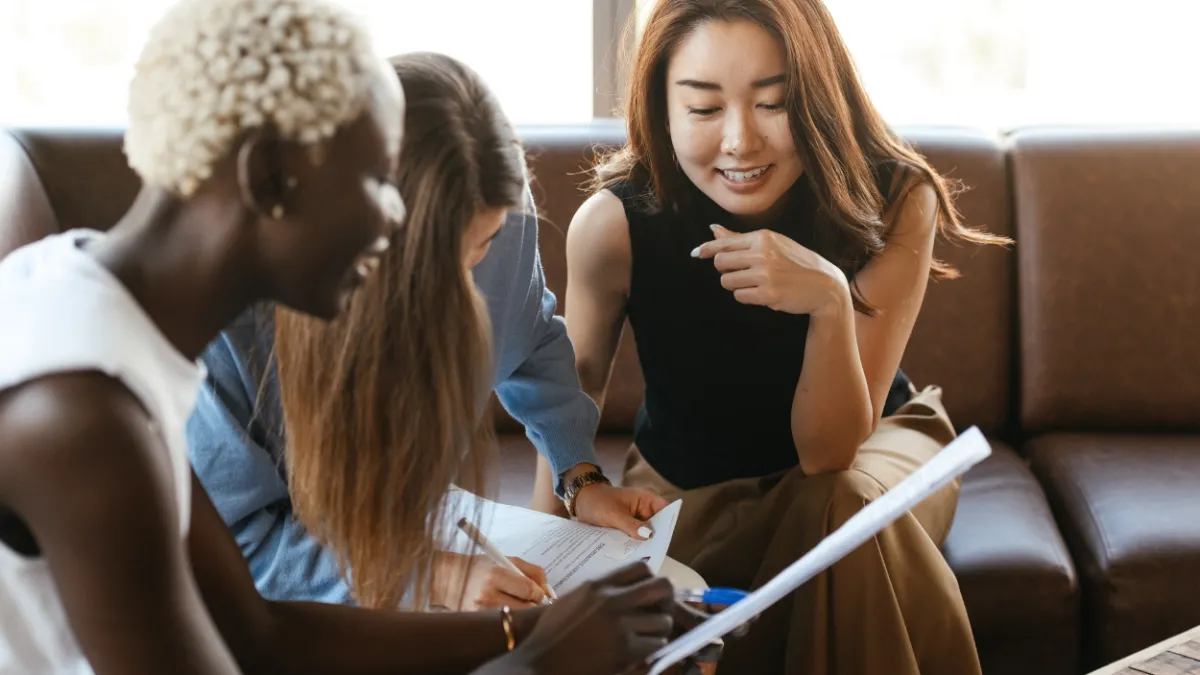 Promotion readiness shouldn't be a distant aspiration but a goal that you can start working toward now. In fact, managers and employers often place high value on an employee's proactivity in their own growth and development. 
We have segmented a list of our top courses by topic area that will help professionals move their career forward: 
Business and Entrepreneurial Courses
Business and entrepreneurial skills can be used across a wide range of industries, organizations, teams, and positions. By developing a strong sense of business concepts and adopting the innovative thinking lens of an entrepreneur, you will be poised to propose and implement new ideas and solutions that will set you apart.
Open Innovation
The course for bringing new ideas to the table by learning to collaborate outside of your team and organization.
This is an innovation management course that presents a foundational understanding of open innovation, helping you not only solve some of your most difficult problems, but also gain access to a pool of talent that goes far beyond your organization's walls. By examining the different types of open innovation—contests, idea crowdsourcing for business, collaborative communities, and online labor markets—you'll begin to develop a plan to adopt and implement an open innovation strategy in your organization. 
Technology Entrepreneurship: Lab to Market 
The course that will help you turn your ideas into action and products. 
In this introductory course, developed in collaboration with the Laboratory for Innovation Science at Harvard and the University of California San Diego, you'll explore how entrepreneurs match promising technology with customer needs to launch successful new businesses. Using real-world examples, you'll apply critical thinking to commercialize technologies, and you'll learn about the venture creation process from founders, funders, and industry experts.
Communication and Leadership Courses
In any professional setting, effective communication forms the cornerstone of becoming a leader, building relationships, and fostering collaboration. From succinctly sharing ideas in meetings to writing compelling emails, every interaction is an opportunity to showcase your professionalism. These skills empower you to navigate diverse workplace scenarios, resolve conflicts with tact, and establish yourself as a valuable team player. Likewise, it is possible to lead from any position within an organization. Even as a young professional, focusing on building leadership skills will help you become more comfortable with taking initiative and contributing meaningfully to your team's success. Developing these skills early in your career positions you as a reliable and forward-thinking team member, opening doors to career opportunities and promotions. 
Rhetoric: The Art of Persuasive Writing and Public Speaking
The course for polishing your communication skills and understanding how to have influence without holding power.
This course is an introduction to the theory and practice of rhetoric, the art of persuasive writing and speech. In it, you will learn to construct and defend compelling arguments, a crucial skill in many settings. We will be using selected speeches from prominent twentieth-century Americans -- including Martin Luther King Jr., John F. Kennedy, Margaret Chase Smith, Ronald Reagan, and more -- to explore and analyze rhetorical structure and style. Through this analysis, you will learn how speakers and writers persuade an audience to adopt their point of view.
Exercising Leadership: Foundational Principles
The course that will help you build trust as a high value team member who can get things done.
In this introductory course, you will explore strategies for leading in a changing world where adaptive pressures will continue to challenge all of us. You will discover new ways to approach complex organizational systems and take thoughtful action on the work we all face ahead. Most importantly, you will reflect on how to move forward on the leadership challenges you care about most.
Data and Analytics Courses
As a young professional in today's data-driven landscape, it is essential to participate in as many data and analytics courses, discussions, and trainings as possible. These skills enable you to more quickly understand complex information, make better decisions, and create strategic initiatives. As industries increasingly rely on data to guide their operations, possessing these skills can distinguish you as a versatile and resourceful team member. 
Data Science Principles
The course for those who are new to the world of data science.
An introduction to data science course for anyone who wants to positively impact outcomes and understand insights from their company's data collection and analysis efforts. This course will prepare you to speak the language of data science and contribute to data-oriented discussions within your company and daily life. This is a course for beginners and managers to better understand what data science is and how to work with data scientists. 
Data Science for Business
The course for aspiring managers and executives with dreams of making a big impact on their future company.
Data is only as useful as the insights you can collect from it. As an aspiring business professional, you can help realize the full potential of data by building the skills that will help you effectively understand, visualize, and analyze the data available to you. Data Science for Business will help you appreciate the full benefits of data-driven decision making and teach you the business analytics tools and techniques you need to effectively build better business solutions and become a stronger manager. 
Data Privacy and Technology 
The course that will help you help your team to keep your customers' data secure.
Privacy is a complex and multifaceted concept. This course aims to help you become an effective leader in business task forces, privacy-forward communities, and data-sharing practices. By the end of the course, you will be ready to contribute to your organization as it grapples with the interaction between privacy and big data.  
Data Science: R Basics
The course for those who want to add programming to their resume. 
This course will introduce you to the basics of R programming. You can better retain R when you learn it to solve a specific problem, so you'll use a real-world dataset about crime in the United States. You will learn the R skills needed to answer essential questions about differences in crime across the different states.
Personal Development Courses
The early stages of your career is the best time to become aware of the importance of maintaining a good work-life balance. By grasping the significance of work-life balance early on, you can establish healthy habits that promote productivity, creativity, and mental clarity in the workplace. This understanding empowers you to set boundaries, manage your time effectively, and prioritize tasks efficiently.  Focusing on personal development is a key function of making sure you are growing as a whole person and not just within your workplace. 
Building Personal Resilience: Managing Anxiety and Mental Health 
The course that will help you get through the tough parts of life, professionally and personally. 
If you've ever felt stressed, burned out, anxious or sad, you're not alone. These moments are challenging and make it difficult to find a way forward. However, you can use science-backed tools to help manage these experiences and the emotions that come along with them. Regardless of any personal or professional obstacles you are facing, this course taught by Dr. Luana Marques, will help you use applied psychology and five proven skills to transform your feelings of stress, anxiety, and burn out into mental strength.
Managing Happiness
The course that will show you how to use the science of happiness everyday so you can live a more fulfilling life.
Taught by Arthur Brooks, this course encourages you to explore the science of happiness, allowing you to find your truest self. Through cutting-edge survey tools, the best research, and trends in social science, positive psychology, neuroscience, and philosophy, learners unlock the strategies to create a more purposeful life, full of long-lasting enjoyment and satisfaction.
Go Further: Earn A Certificate of Specialization from Harvard 
The Harvard on Digital Certificate of Specialization offers a Learning Path to accelerate professional development. This Learning Path provides unparalleled access to a faculty of experts who introduce cutting-edge solutions to current industry challenges using the methods you can only find at Harvard.
Participants can take courses that are part of the Harvard on Digital Learning Path in any order, but we suggest they begin with Data Science Principles, then move on to complete any two of the Learning Path eligible courses to gain deeper insights and expertise based on their professional needs. 
Those who successfully complete three courses from the Harvard on Digital Learning Path within 18 months will earn a Certificate of Specialization, which can elevate professional standing and signify to employers a commitment to growth and lifelong learning.
In less than 18 months, learners will develop relationships with other rising leaders around the globe and cultivate skills they can immediately apply to advance their careers, strengthen their teams, and become changemakers within their organizations.
---
With a wide variety of courses and enrollment options, Harvard Online provides you with the flexibility so you can learn for pure enjoyment (by auditing our edX courses for free) or learn to strengthen skills that can help you in your career (with our certificate programs). Which course will you take next? View all courses.