Top Harvard Online Courses for Recent Graduates
Published August 31, 2023
---
The transition between a graduation ceremony and the next step in an academic or professional journey can be both exciting and daunting. After the celebrations are over and another autumn rolls around, it's time to consider the right course of study that will help you achieve your goals. 
Image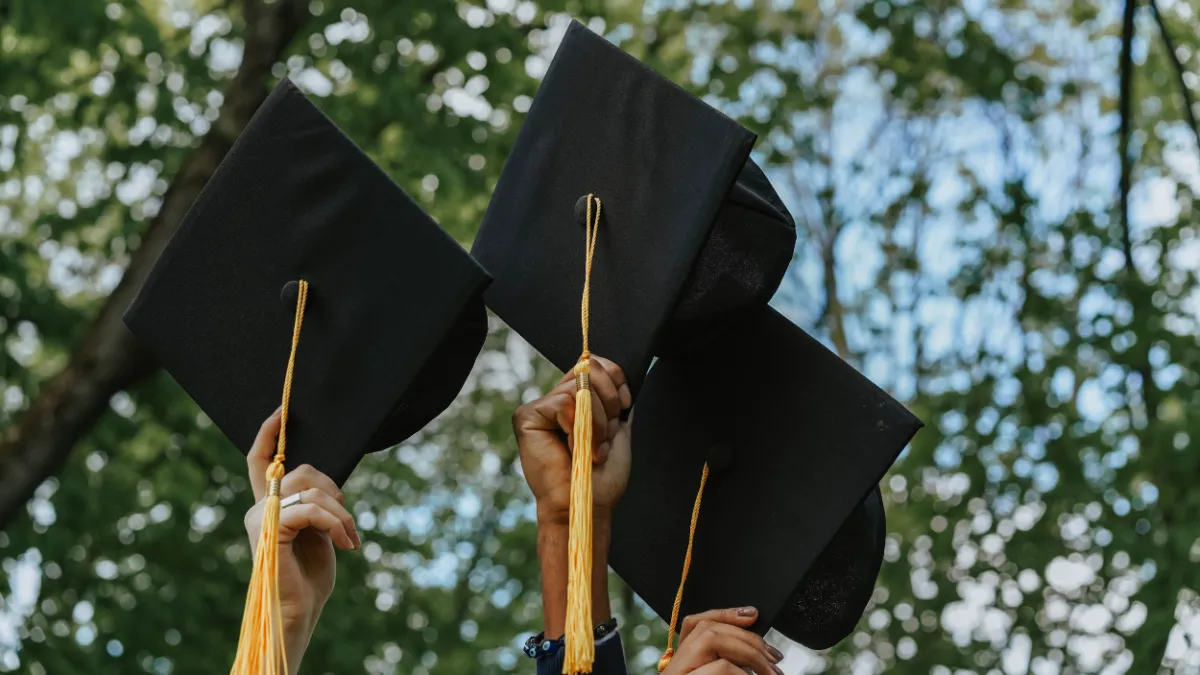 In 2023, the National Center for Education Statistics reported that more than 3.3 million students graduated from high school. Of those graduates, more than half are expected to go on to enroll in higher education programs. What will they choose to study? What are the courses and majors that will serve them in their professional and personal development? 
Similarly, in 2020, it was reported by the Education Data Initiative that more than 4 million people graduated from higher education programs with either an Associate's or Bachelor's Degree. How will they apply their newly acquired knowledge and skills in their careers? And most importantly, how will they continue on a new self-directed learning path? 
While each person's learning path is unique, it is not surprising that some of the fastest growing and most widely applicable fields of study overlap with some of the most popular college majors. Whether you're looking ahead to your first semester of college, taking a gap year, bulking up your resume to search for your first real job after college, or are excited to go back to learning after a longer hiatus, a good first step in deciding what you'd like to study next is to explore a variety of options. 
We have compiled a list of our top online courses for recent graduates to help them decide on and prepare for their next learning adventure: 
 
Business and Management 
Business is the most popular area of study on college campuses and for good reason. Knowledge and skills gained in business courses can be applied across a wide range of organizations and industries. 
Data Science for Business 
The course for aspiring business leaders who want to be prepared to make a big impact on their future company.
Data is only as useful as the insights you can collect from it. As an aspiring business professional, you can help realize the full potential of data by building the skills that will help you effectively understand, visualize, and analyze the data available to you. Data Science for Business will help you appreciate the full benefits of data-driven decision making and teach you the business analytics tools and techniques you need to effectively build better business solutions and become a stronger manager. Suggested prerequisite: Data Science Principles. 
Exercising Leadership: Foundational Principles
The course for the aspiring leader.
Explore strategies for leading in a changing world where adaptive pressures will continue to challenge all of us. You will discover new ways to approach complex organizational systems and take thoughtful action on the work we all face ahead. Most importantly, you will reflect on how to move forward on the leadership challenges you care about most.
Data and Computer Science 
The fastest growing professions are in the data and computer science fields. Learners who are a good fit for this field of study are typically self-directed learners who adapt easily to change, want to apply the skills they learn quickly, and are excited to immerse themselves in the ever-evolving field of technology.
Data Science Principles
The 101 course for those who are curious about data science and its applications.
An introduction to data science course for anyone who wants to positively impact outcomes and understand insights from their company's data collection and analysis efforts. This course will prepare you to speak the language of data science and contribute to data-oriented discussions within your company and daily life. This is a course for beginners and managers to better understand what data science is and how to work with data scientists. 
CS50's Introduction to Computer Science
The foundational course for all other courses on Computer Science and programming.
One of the most popular courses on Harvard's campus, this is an introduction to the intellectual enterprises of computer science and the art of programming for all learners with or without prior programming experience. An entry-level course taught by David J. Malan, CS50 teaches students how to think algorithmically and solve problems efficiently. Topics include abstraction, algorithms, data structures, encapsulation, resource management, security, software engineering, and web development. Languages include C, Python, SQL, and JavaScript plus CSS and HTML. Problem sets inspired by real-world domains of biology, cryptography, finance, forensics, and gaming. 
CS50's Introduction to Programming with Scratch
A basic course on programming for beginners.
An introduction to programming using Scratch, a visual programming language via which aspiring programmers can write code by dragging and dropping graphical blocks (that resemble puzzle pieces) instead of typing out text. Used at the start of Harvard College's introductory course in computer science, CS50, Scratch was designed at MIT's Media Lab, empowering students with no prior programming experience to design their own animations, games, interactive art, and stories. Using Scratch, this course introduces students to fundamentals of programming, found not only in Scratch itself but in traditional text-based languages (like Java and Python) as well. 
Fat Chance: Probability from the Ground Up
This course will help you prepare for advanced data science and computer science courses.
Created specifically for those who are new to the study of probability, or for those who are seeking an approachable review of core concepts prior to enrolling in a college-level statistics course, Fat Chance prioritizes the development of a mathematical mode of thought over rote memorization of terms and formulae. Through highly visual lessons and guided practice, this course explores the quantitative reasoning behind probability and the cumulative nature of mathematics by tracing probability and statistics back to a foundation in the principles of counting.
Pre-Med, Biology, and Psychology
Positions in the health and health care industry are in high demand, and recent graduates are preparing to fill those roles by enrolling in programs and courses that will teach them all they need to know to provide excellent care to those who need it. 
Fundamentals of Neuroscience
The series of courses for aspiring psychiatrists, psychologists, and neuroscientists. 
Based on the introductory neurobiology courses taught at Harvard College, Fundamentals of Neuroscience is a three-part series that explores the structure and function of the entire nervous system—from the microscopic inner workings of a single nerve cell to the staggering complexity of the brain.
Cell Biology: Mitochondria
The course for emerging biologists and natural scientists.
Explore all of nature's most foundational systems for living organisms. The cell is a powerful case study to help us explore the functional logic of living systems. All organisms, from single-celled algae to complex multicellular organisms like us, are made up of cells. In this course, you will learn the how and why of biology by exploring the function of the molecular components of cells, and how these cellular components are organized in a complex hierarchy.
Reducing Racial Disparities in Health Care
This course is for aspiring doctors, nurses, or physician's assistants who are also change makers and want to make health care accessible and equitable to all. 
Offered in conjunction with the Disparities Solutions Center at Massachusetts General Hospital (MGH), this five-week course will use real-world examples, case studies, and insights from leaders in the field to help you digest the latest in understanding racial disparities in health care—allowing you to create strategic approaches that you can apply to your organization. 
Education 
Perhaps the most important of all, courses in education help prepare the next generation of teachers and educators who will shape the minds of future generations and impact a variety of industries. From connecting with students and learners of all ages to influencing the way we think about the world around us, the education field is for anyone who wants to change the world with their career. 
Leaders of Learning
This course will help you think differently about learning and a career in education and learning. 
The education sector is undergoing great transformation, and in the coming decades will continue to change. How we learn, what we learn, where we learn, and why we learn; all these questions will be reexamined. In Leaders of Learning, we will explore learning, leadership, organizational structure, and physical design.
Introduction to Family Engagement in Education
The course for the aspiring teacher who understands family is a critical component in a child's education
In this education course, you will learn what family engagement is and why it matters to the success of students and schools. We will explore the research linking family engagement to better educational outcomes and speak directly with researchers, educators, students, and families about promising practices in the field.
Civics and Government Courses
Government has the power to shape the world we live in. Understanding the structures and systems of our government is an important step in being active and civically engaged citizens of the world.
American Government: Constitutional Foundations
The course for understanding the very foundations of democracy. 
This course explores the origins of U.S. political culture, how that culture informed the Constitution, and how that framework continues to influence the country's politics and policies. We will examine the Constitution's provisions for limited government, the division of power between the federal and state governments, and the forces that have made federalism a source of political conflict and change.
We the People: Civic Engagement in a Constitutional Democracy
The course for learning the steps to make positive change within a constitutional democracy.
In this course, you will gain a foundational knowledge of American constitutional democracy and understand how to encourage others to explore their own civic paths, while in parallel crafting your own civic voice and identity. You'll learn about rights and responsibilities, constitutionalism, the philosophical foundations of democracy, and the levers of change. This course is built on more than ten years of academic research through the Democratic Knowledge Project, an initiative of the Edmond J. Safra Center for Ethics at Harvard University.
Liberal Arts and Electives
Courses in the liberal arts offer the opportunity to explore the world through a wider lens and encompass a wide variety of topics and disciplines to learn about. From social sciences to the creative arts, this field of study is for any learner who wants a new way to view their life and their work. 
Justice
The course for those interested in examining ethics and society.
One of the most popular courses on Harvard's campus, Justice is taught by lauded Harvard professor Michael Sandel and explores critical analysis of classical and contemporary theories of justice, including discussion of present-day applications. Topics include affirmative action, income distribution, same-sex marriage, the role of markets, debates about rights (human rights and property rights), arguments for and against equality, dilemmas of loyalty in public and private life. The course invites learners to subject their own views on these controversies to critical examination.
Managing Happiness
The course for anyone who wants to experience more joy in their life and share it with others
Taught by Harvard Professor and New York Times Best Selling author, Arthur Brooks, this is a class that introduces you to the modern science of human well-being and shows you how to practice it. Unlike other happiness courses, Managing Happiness goes a step further and demonstrates how you can share the ideas with others, thus bringing more happiness and love to the world and supercharging your own well-being efforts.
Shakespeare's Life and Work
The course to examine some of the most well-known works in literature and theatre. 
Moving between the world in which Shakespeare lived and the present day, this course will introduce different kinds of literary analysis that you can use when reading Shakespeare. With short videos filmed on location in England and readings covering topics like Shakespeare's contemporaries and the politics of modern performance, you will learn a range of critical tools that you can use to unlock the meaning and relevance of Shakespeare's plays.
---
With a wide variety of courses and enrollment options, Harvard Online provides you with the flexibility so you can learn for pure enjoyment (by auditing our edX courses for free) or learn to strengthen skills that can help you in your career (with our certificate programs). Which course will you take next? View all courses.