Professor Dustin Tingley Explains How Data Science Is For Everyone
Published May 17, 2023
---
---
Data science is at the core of any growing modern business, from health care to government to advertising and more. Insights gathered from data science collection and analysis practices have the potential to increase quality, effectiveness, and efficiency of work output. Truly anyone in almost any field of work or study can benefit from learning and enacting data science.
Image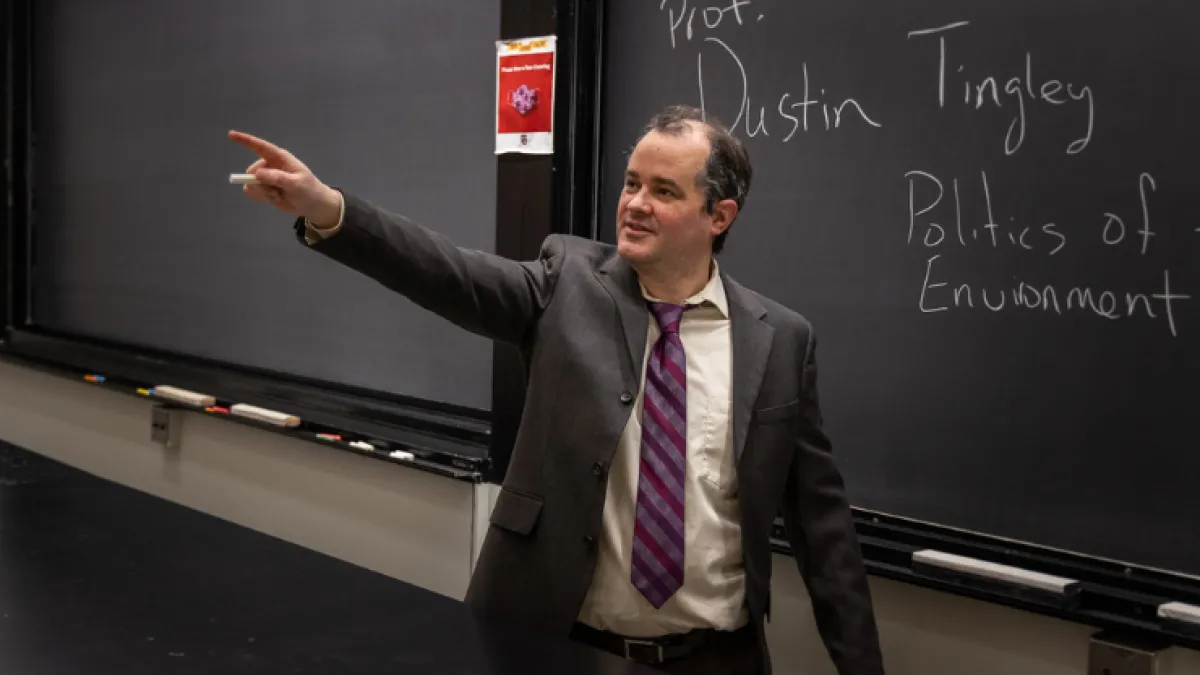 Professor Dustin Tingley
Which is exactly how Dustin Tingley, Professor of Government and Deputy Vice Provost for Advances in Learning at Harvard University, became a Data Scientist. Professor Tingley leads our Harvard Online course Data Science Principles to learners worldwide. His work showcases how data science can perfectly benefit and support expertise in non-STEM fields.
In his course Data Science Principles, Professor Tingley takes learners through a nearly code- and math-free introduction to data science concepts such as prediction, causality, visualization, data wrangling, privacy, and ethics. By using real-world examples that prompt learners to think critically within their own workplace, this course makes the foundational topics in data science approachable and relevant.
We spoke with Professor Tingley to discuss his mixed career path, his upcoming book Uncertain Futures, and his data-driven outlook on the future of technology and our world.
Harvard Online (HO): You're a Professor of Government. How does data science relate to politics?
Professor Dustin Tingley (DT): Governments have to make many decisions in really complicated contexts. Given this, the agencies, leaders, and companies they hire use data and data science techniques regularly. 
When it comes to politics itself, it is increasingly a data-driven world. Public opinion polling increasingly uses modern data science tools, and the design of campaign messages and strategies do too. Modern political parties all employ data scientists and people that work alongside them. 
HO: Can you tell us about your upcoming book, Uncertain Futures? How does this work coincide with data science?
DT: One of the goals of our book was to reach people who live in very particular areas of the United States, such as coal producing regions. This means we needed to use a lot of data to target surveys and tools to reach these regions. We also ran experiments to understand how and when people would support certain types of policies.
HO: Looking at the uncertainty of the future, do you believe the climate crisis is the largest challenge facing the world today?
DT: I do think it is the largest challenge facing the world today, in part because it will exacerbate many existing challenges. Poorer people and poorer countries will be strongly impacted. 
A huge part of our economy–not just cars and trucks–produce carbon. Making cement and steel, for example. So the causes of climate change are deeply ingrained in our daily lives. That is a huge challenge.
HO: What technology on the horizon interests or scares you?
DT: Like many people, generative artificial intelligence (AI) is very interesting to me. ChatGPT is one example that many people are talking about. It is pretty stunning the different tasks it can help with. One of them is writing code for doing data science. 
In some sense then, courses like Data Science Principles–which is intentionally not a class on coding–becomes more relevant and interesting. The course is about being smart with data science, not coding. Tools like ChatGPT have a long way to go in being able to think through issues we cover in the class.
HO: What made you interested in data science?
DT: Ironically, I became interested in data science because I was seeing it being misused all the time. People were drawing the wrong conclusions because they were trusting the outputs of algorithms without being critical thinkers. At the same time, data science done well is truly revelatory and can unlock the ability to make money, save lives, and even save the planet. 
…also I'm a bit of a math nerd.
Apply by Monday, May 22 to join the next cohort of our course Data Science Principles and to learn more from Professor Tingley on getting prepared for our data-driven world.