Sikhism Through Its Scriptures
Experience the texts of Sikhism
Join Harvard University faculty to examine the Sikh scripture and teachings from a historical perspective and discover how the text evolved and was canonized.
Featuring faculty from:
Image

Length
4 weeks
5-10 hours a week
Length
4 weeks
5–10 hours per week
Start Sikhism Through Its Scriptures today.
What You'll Learn
Sikhi, commonly known as Sikhism, is a monotheistic religious tradition that was founded by Guru Nanak in late fifteenth-century Panjab in South Asia. Today, Sikhi's approximately twenty-five to thirty million adherents can be found all over the globe, making it one of the six major religions of the world. Sikhi encompasses several religious, social, economic and political institutions, most of which were established and nurtured by Guru Nanak and his nine successors, known as Sikh Gurus. 
For over five hundred years, Sikhs in the Panjab and all over the world have engaged with their scripture, the Guru Granth Sahib, through the devotional practices of exegesis, singing, recitation, memorization, and calligraphy. 
This course examines the Sikh scripture from a doctrinal and historical perspective by providing an overview of Sikh teachings as well as the historical context within which the scripture evolved and became canonized. It also examines the musical and aesthetic dimensions of the Sikh scripture, as well as ways in which the voluminous text has provided Sikhs with a social, ethical, spiritual and political message to help them respond to and shape the world around them.
The course will be delivered via edX and connect learners around the world. By the end of the course, participants will learn:
Exploration of a foundational Sikh text, the Japji, which was composed by Guru Nanak and is recited by Sikhs as part of their morning prayers
The place of Guru Granth Sahib, the Sikh scripture, in Sikh life
Interpretative skills to engage in a nuanced reading of Guru Granth Sahib
Gurmat Sangit, the Sikh musical tradition, as represented in the Sikh scripture and its cultural context
The aesthetics of Sikhi, including literature, art, and music
The political dimensions of Sikh scripture and its impact on the evolution of Sikhs as a Panth or community
Image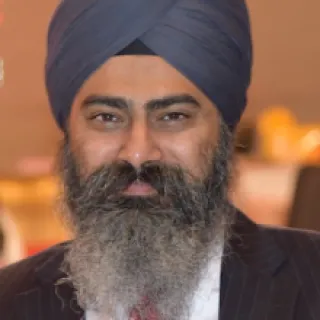 Harpreet Singh
Scholar of Sikhism and South Asian Religions Traditions
at Harvard University
Read full bio.
Ways to take this course
When you enroll in this course, you will have the option of pursuing a Verified Certificate or Auditing the Course.
A Verified Certificate costs $149 and provides unlimited access to full course materials, activities, tests, and forums. At the end of the course, learners who earn a passing grade can receive a certificate. 
Alternatively, learners can Audit the course for free and have access to select course material, activities, tests, and forums. Please note that this track does not offer a certificate for learners who earn a passing grade.